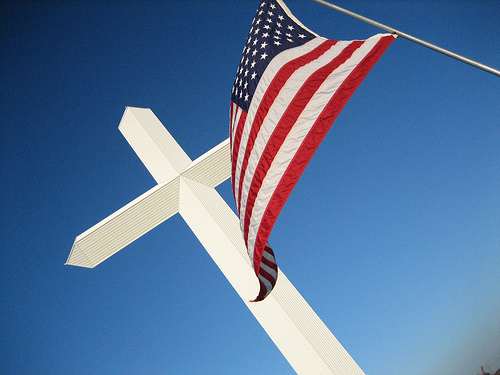 We need revival in America. I know most of you agree with that statement, but what do we do to make it happen? As I look around America today it seems that the answers given by most churches, and even by the most prominent leaders in Christianity, can be varied greatly.
For some the answer is that we believers must take action to fix our nation and bring her back to God. This can be anything from voting for the right leader, not shopping at a certain store, or fighting for our rights in court. It all seems like an uphill battle.
For others, the answer is that we must pursue personal holiness, because if we can just make ourselves clean enough as believers, then revival would come. For someone raised blue-collar like myself, this sounds like the right answer: if we would all just get our act together and handle our own business, then things would turn around publicly, as well.
Then, a third option (and in my opinion the worst of all), lies with those Christians who have just determined there is nothing we can do except wait for Jesus to come back and deal with it. These believers love the word and occasionally talk about the need for evangelism and social justice, but in the end, they don't believe things will change at all. It is only going to get worse and worse, so we might as well sit on the sidelines and wait for the end.
Although some of these options are good, or even necessary, the truth is that none of them are biblical steps to seeing revival come. (In fact, in Jesus' day, all three of these were represented in Israel to see the coming of the Kingdom of God. The Zealots wanted to fight for it. The Pharisees believed holiness would usher it it. And the Essenes decided to leave culture behind to live in the wilderness and wait for God to sort it all out.)
Longing for Revival
Now, it is good that we desire revival to come. I desperately want to see God's glory once again shine upon my home nation – which as a world leaders means global impact as well. However, in order to actually see it come to pass, it is time we begin longing for revival with a more biblical course of action in mine. And of course one of the greatest promises in the Bible gives us steps to follow to see it come.
"If my people who are called by my name humble themselves, and pray and seek my face and turn from their wicked ways, then I will hear from heaven and will forgive their sin and heal their land." – 2 Chronicles 7:14
The truth is, in spite of all of our best efforts, we are not accomplishing what God wants to see done in this nation because we are not following the basic instructions given to us by God in this simple little verse. So how do we begin to put it into action?
Humble Yourself
It is amazing to me the audacity of some Christians who take it upon themselves to throw all kinds of stones at people demanding that they repent and turn to God, yet it is oftentimes these same people who have made the terms "Christian" and "Hypocrite" synonymous to the unbeliever.
God does not tell us to tell the world to humble themselves before God for things to get fixed. God tells His people — US — to humble OURSELVES before Him. We don't get to play the role of God and still expect to see Him move. Instead we must lower ourselves down before Him, declaring our own inability, and take our place under His sovereignty and rule.
Here's what I mean. When we look at so many of the things wrong in our country today – abortion, homosexual activism, political scandal, economic failure, multiple wars – the natural man in us sees it as a call to action. For many Christians that means political involvement, community service, taking part in civic organizations, or joining in protests or awareness events around a specific cause. Now, while I don't think there is anything inherantly wrong in doing many those things, they can oftentimes undercut what ought to be our primary mode of life, which is…
Prayer
The sad reality for many Christians is that no matter how much they make statements to the contrary they don't believe prayer actually accomplished anything. This fact is proven by their unwillingness to humble themselves enough to spend the time seeking God in a situation before moving out and taking action on their own. Their hasty bypassing of God demonstrates that they don't trust Him. Instead, they still want to play God themselves.
Notice that God doens't say humble yourself before reaching out to others. He says humble yourself before reaching up to Him. We have to stop living our lives like everything depends on us. Instead, we must seek God. He is the only one with the power and authority to make real change happen.
If, after seeking God, He leads you to do some of  those other things, then go with His blessing. But, lest you get the priorities confused, remember that it is a dangerous thing to act first and assume you have God's blessing. Get it straight: we must seek Him first, then act on what He says.      
Turn From Wickedness
Obedience to God can change things. Obedience to His still small voice, and to His word. Because of this, it bothers me that some of the loudest voices calling for repentance and revival in our nation are often those very near to a massive moral failure, and our culture is simply waiting to watch it happen.
If we want to see revival in our nation, we must repent of our own sin first. Don't hide it. Don't downplay it. Turn from it and look to God. Do the hard work of repentance. If you are going to have any impact on this nation for Christ's sake, you must be a person of integrity with true godly character. You cannot live one life publicly and another privately.
I've heard it said many times that the best way to pray for revival is to draw a big circle on the floor, stand in that circle, and pray that God will send revival on everyone inside that circle. It is our own hearts that are the first obstacle for revival to come. But when God breaks through and kindles a flame in the hearts and minds of His people individually, there is no telling how far the fire can spread in a society.
The hard reality is that revival doesn't start when we get serious about other people's lives. It starts when we get serious about our own.
Receive the Promises
If we will repent of our sins and seek God on behalf of our nation, He explicitly promises that He will hear. He will forgive. And He will heal. No political charge or immoral force can stand against Him.
I absolutely believe that if we will do what God has asked here, that He will do what He said He will do. The question is, do you have faith enough to believe it, too? Answering yes isn't enough, though. You must act. Will you join with me in seeking God to do something in our country once again? With God, all things are possible.