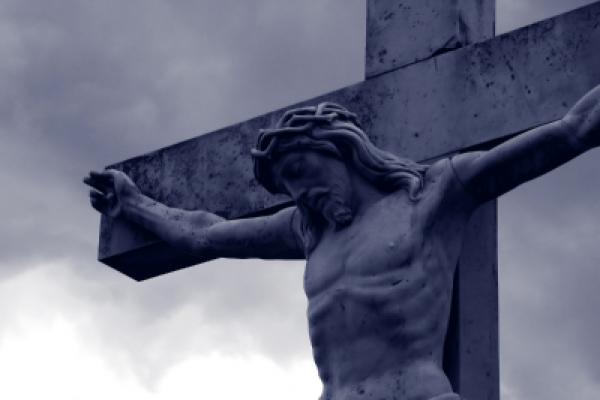 (This is part 1 of an Easter weekend blog series)
To Christians, today  is known as "Good Friday," a  celebrated holiday so called because it is the day that the sacrifice was made for our sins in Jesus willingly dying on the cross. For those of us who have tasted the grace of God, however, felt in the cross of Christ, today holds more grief than good as we realize the weight and consequence of our sin placed on Him.
Today we celebrate the fact that we crucified the Son of God.
As I went to bed last night I went through my normal routine of checking emails and Facebook messages one last time. I spent some time in prayer. Then I climbed into my bed, laying in front of my fan, and settled in for a good night's rest.
But almost 2,000 years ago, Jesus would have been spent last night in the upper room with His disciples, celebrating the Passover feast. As the disciples did as they had always done, eating the unleavened bread and drinking the wine, celebrating the fact that their sins for the last year were covered by the blood of the sacrificial lamb, Jesus begins to tell them a new Passover story.
He tells them that the bread they are eating now symbolizes His flesh which would be beaten, broken, and torn from his bones, and the wine now represents His blood which would be poured out for them. They knew the promised Messiah had come. But what they were learning is that their new-found King would become their Sacrificial Lamb.
Almost a week ago, Jesus rode into town on a donkey as the people cried "Hosanna!," "Salvation is Here!," declaring that Jesus was Lord. He then provokes the religious status quo by turning over the tables in the Temple and talking about it's destruction and saying, "I'll rebuild it in three days."
Though the plan had been to take care of this Jesus after the holiday passed, when the Jewish people start worshipping a man as God, true or not, something has to be done. A plot against Him forms.
After the Passover meal, Jesus excused his betrayer to do that thing which he had been paid to do, then He and the other disciples retired to a quiet garden at Gethsemane. It was at this place we see the weight of our sins that would soon overtake our Lord begin to crush down on Him. As His disciples struggle to keep their eyes open, Jesus goes into the most grievous time of prayer the world has ever seen. The Son of God crying out to His Father, "Daddy, please don't do this!"
As capillaries begin to rupture under His skin and drops of blood begin forming on his body like sweat – a sign of extreme stress – we hear the words that once and for all set in motion our salvation: "Nevertheless, not My will, but Yours be done."
Soon the religious militia shows up in the garden to take Jesus away. The disciples flee and hide, as Jesus spends the rest of that night in prison being tormented by the guards.
As morning arises Jesus is taken before both Pilate and Herod to be charged for his blasphemies. Neither ruler finds him guilty, but the crowds who a week ago were shouting "King," now screamed "Crucify."
After being beaten until He no longer resembled a man, Jesus picked up His cross and began the long walk up the mountain called Calvary. Falling under the weight, others were forced to carry his cross as Jesus struggled towards His own death.
By noon, Jesus was nailed to the cross and hung between two thieves. The crowds mocked and spat at Him. Even his fellow criminals taunted Him. "If You are the Son of God, then come down off that cross."
Though He could have come down, Jesus remained.
Darkness had covered the city as creation watched it's Creator being murdered for crimes He did not commit. As the sin of the world came to rest on Jesus, the Father in Heaven turned His face away from His only Son. "Father, why have You forsaken me?"
Around 3pm Jesus looked to the skies and cried out one last time, "It is finished." As He breathed His last breath the earth shook. Rocks crumbled. Tombs opened with the dead coming out alive. And inside the temple, the veil that for centuries had kept man separated from the Holy of Holies – the dwelling place of God's Spirit – was torn in two, from top to bottom, giving all humanity access to the Father.
The guard who watched Jesus die, seeing nature grieve, said, "Surely, this was the Son of God."
His body was taken and laid in a tomb. A stone was placed over the entrance, and the religious leaders sent a guard to watch the body.
On Good Friday, our sin-debt was hung on that cross, punished by God, and taken to the grave. Our curse was dealt with by the only One born of woman who didn't deserve to die. And Jesus words to Nicodemus finally carry their full weight, "God so loved the world, that He gave His only Son…"
Jesus – our God – was dead.
(Click here to go to Part 2 of the series)