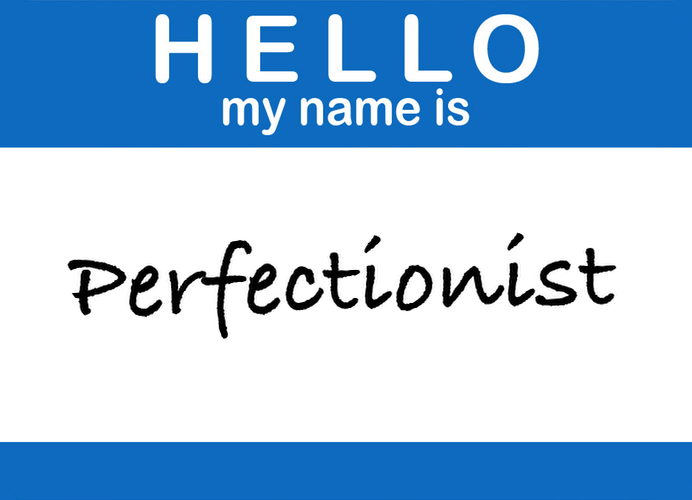 I am a perfectionist. I have been this way most of my life. Every personality test I have ever taken says that I am a high achiever with extremely high expectations for myself. These high expectations flood not only into the amount of things I desire to accomplish successfully, but also into the level of personal integrity I hope to demonstrate behind them. I have a very black or white view of morality and don't deal with gray areas well. All of this has led to extreme disappointment in life when the outcome of my actions does not meet up to the level of my own standards.
Now, while I do not apologize for many of my perfectionist pursuits on either the personal or professional levels — I want to do all things with excellence — where I must be careful is in spending too much time and effort looking at my own high standards and expectations for myself, rather than keeping my eyes on Jesus and pursuing His sanctifying work in me.
Another area in which I find this dynamic to be true is one-on-one discipleship. I spend a lot of my time meeting with various people for discipleship, biblical counseling or ministry coaching, and I cannot tell you the number of times I have said to myself, "I can't wait for this guy to just get his life together and start making good decisions." These high expectations I hold over people often make me think that God must feel the same way.
I'm wrong.
One big thing I have learned about God is that while He desires perfection in holiness and godly character from His children, the journey to get there is as important to Him as the outcome itself. God loves intimacy with us on the path to becoming the men and women we will one day become in Him.
When will we arrive?
In discussing the idea of perfectionism, holiness, sinlessness, and completed sanctification, I believe it is possibly the greatest area of discouragement for too many Christians. We continually strive to do better in life, and feel frustrated when we don't arrive quickly. We wonder to ourselves, "When am I going to finally get there?" Yet I can't help but wonder if this is the wrong attitude to have.
Recently I was discussing this issue with a close friend of mine. He expressed disappointment in his current level of faith in God's daily involvement in our lives and his personal need for more boldness in witnessing. Being a "professional" evangelist myself, it might come as a surprise to say that my response was "me too. I need more of those things as well."
As I was spending time with the Lord in prayer about these same things, I heard the Spirit say to me, "When will you learn that every single thing in the Christian life must flow out of intimacy with me?…If I wanted instant discipleship perfection, I would just kill you and bring you into glory. What I value more is the journey of intimacy in sanctification. I don't just want victory over sin and death. I want the most glory-filled, spectacular, history-long demonstration of the gospel possible, that it will burn in white-hot glory for eternity. I want a slow, crushing defeat over Satan done by being ever-so patient in drawing My children home… By letting the discipleship journey go on for a lifetime, you get the greatest adventure possible, and I get maximum glory in the victory of My Kingdom. So for now, instead of stressing out, you must celebrate every win."
So as we pursue growth, it may be that the best way to look at this process is not in terms of "arriving," but rather as "always advancing." I mean, look back at yourself 1 year ago… 2 years ago… 5 years ago. Chances are, you are not the same as you were then. If you have spent any time pursuing growth in your spiritual life, there is probably a major noticeable change in yourself when you look back at different points in your personal history.
Today, I have many flaws that I just want to be fixed and done with. I have dreams and hopes for the man I want to be in 5 years, 10 years, and beyond, and in truth, I sometimes feel so far from getting there that it is overwhelming. However, when I look back at the journey I have been on in the past, it definitely gives me hope.
When I look back at who I was as an 18 year old, High School senior, then move forward to a 22 year old, college graduate, a 25 year old Associate Pastor, and now a 30 year old missionary-evangelist, I am so thankful that I am not the person I was at any of those previous stages of life. Yes, I have a lot further to go, but it amazes me to look back and see how far I have already come by the grace of God.
What can you celebrate?
I believe it is time to change our attitudes about our lives. We all have goals and hopes and dreams. We can all identify the men and women of God we want to become. Those are good aspirations, and the reality is, we are moving in that direction. So as we press on, let's stop condemning and criticizing ourselves (and others), throwing on shame and guilt for not being there yet, and let's begin to celebrate the victories we win day-by-day, month-by-month, and year-by-year. We have come this far already. Let's rejoice each time the "Perfecter of our Faith," Jesus Christ, takes us another step forward on that journey.
What about you? What can you celebrate today that God has done in your life? Maybe it happened in an instant. Maybe it's been a decade-long journey. Either way, it's good, right? I'd love to hear your celebration stories in the comments below.